Lithograph - Mirage F.1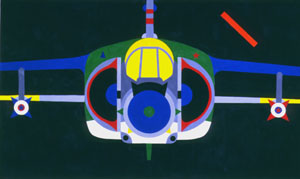 Mirage F.1
As seen in the October 1998 issue of ARTnews (page 106)
From the aviation art collection of Donald Driss,
his first limited edition lithograph of 1000 prints, signed & numbered,
selling for $100 + $15 S/H ($25 foreign)
To Order: send check or money order for $100+S/H (made out to Donald Driss)
to Driss Concepts.

You may purchase a Mirage F.1 lithograph thru eBay (search: Mirage F.1 lithograph)
or Etsy (search: Donald Driss lithograph).
For more information about purchasing a lithograph or to find out how to
commission an exclusive aviation art painting by Donald Driss:
e-mail Driss Concepts at ddriss@ddriss.digitalspacemail8.net.

Home | Art Works | Biography | Lithograph
---
Driss Concepts * 201 West 79th Street, #719 * New York, New York 10024 * (212) 769-3570 * ddriss@ddriss.digitalspacemail8.net.