Donald Driss - Biography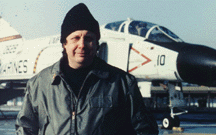 Donald Driss was born and raised in Milwaukee Wisconsin in the 1950's, where he began exploring his creative abilities with a 35mm camera.
The following is a brief chronology of his art career:
1970's

Moved to New York and set up a small studio on West 37th Street in Manhattan. Apprenticed with successful commercial photographers such as John Paul Endress, Klaus Lucka, and Bill King. In 1975, he moved to Chicago and opened a small photo studio on LaSalle St. Worked for local commercial film studios such as Sedelmaier Films, Gil Sorensen Prod., and Sarra Productions.

1980's

Moved back to New York where he began painting and developing his unique perspectives of aircraft on canvas. Over the years, he learned to combine the technical accuracy of working from airplane specs, transforming them into abstract forms. Using vibrant acrylic colors on almost always black background, he has managed to keep the integrity and the recognizable parts of the aircraft in tact, while creating a visual abstraction of color that delights the eye. Using the frontal perspectives of the aircraft, they each in turn, display their distinct form and personality.

1990's

While researching materials on the technical aspects of flying to develop a better understanding of his subject matter, he began collecting information for the eventual writing of the film script, Phantom Squadron, which tells a poignant story of two fighter pilots caught in the middle of the air war over S.E. Asia.
He has also reproduced one of his paintings, Mirage F.1, into 1000 signed & numbered archival prints which are currently for sale.

2000 to Present

In 2015, Mr. Driss completed his second film script titled, Boz De Bop, a comedy based on the period of his life when he was living with his late wife, Linda, and his mother-in-law Mary who he always referred to as Boz De Bop.
In 2017, Mr. Driss completed a two act play titled,Requiem For The Dearly Departed, which takes place outside of Sardi's Restaurant where a screenwriter, after recieving a prestiegous literary award is confronted with the spirit of his departed wife.
The two of Mr. Driss' paintings which are in the Air Force Art Collection; Strategic a 36"x62" frontal perspective of a B-52 bomber is presently hanging in the Pentagon. The other painting, F-15C a 34"x82" frontal perspective of an F-15 is presently hanging in Andrews Air Force Base.
Donald Driss has shown his work in group exhibitions throughout the New York area in the 1980's and 1990's, including shows in Soho, Tribeca, and at Lincoln Center on the Upper West Side of Manhattan. He has also exhibited his aviation art at the Aerospace Historical Center in San Diego, The Confederate Air Force in Midland, Texas, and the Virginia Air & Space Center in Hampton Beach, Virginia. He is a member of the American Society of Aviation Artists, the Air Force Association and the Aircraft Owners' & Pilots' Association.

Presently he has aviation art works in the U.S. Air Force Art Collection and 15 paintings in the permanent collection of art at Kearfott Corportation located in
Pine Brook, New Jersey.

Home | Art Works | Biography | Lithograph
---
Driss Concepts * 201 West 79th Street, #719 * New York, New York 10024 * (212) 769-3570 * ddriss@ddriss.digitalspacemail8.net